The typology and Chronology of Khachkar
Khachkars of Jugha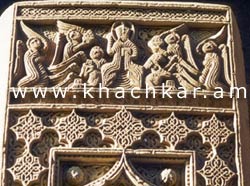 The khachkars of Jugha represent the khachkar culture of the 15th-17th centirues. These khachkars with their solution to the problems of spatial capacity, their iconographical-stylistic style and their semantic meaning are very rare phenomenon. Due to Jugha's exceptional cultural-economic and political location, its khackars acquire to a certain extent new, external design features and new semantic elements which call for a comparison of Armenian and Muslim art, European and the Far Eastern arts, even though these khackars have at their core the classical traditions of Armenian khachkar culture.
The unprecedented development of khachkar art in Jugha, a place which, prior to this period of time, had not been noticed as a location for the development of khachkar art, was a result of economic-cultural development of the 15th-16th centuries, due to the transit silk trade, which had been tragically interrupted by the order of the Persian Shah Abas I to forcefully organize, move and burn Jugha in 1605.
By the end of 20th century, only 3,000 khachkars remained from the approximately 10,000 khachkars that were in Jugha at the end of the17th century. As a result of vandalism organized by the Azerbaijani government, the last three thousand khachkars of Jugha were destroyed at the end of 2002.
On December 2005, military units of Azerbaijan with heavy hammers cut into pieces the last remnants of the khachkars of Jugha and, moving the remnants by cars, dumped them into the Arax River. This crime was filmed from the Persian border and the film was spread all over the world. The actions of the Azerbaijani government were condemned by the European parliament. In the khachkars of Jugha, the proportions of the stele are different (the length exceeds the width by 3-4 times). The steles do not narrow, they do not have pedestals, and they are sunk into the ground. The cornice is architecturally weakly expressed, the forward pediment is missing, and instead the arrow-shaped niche is more architectural than ornamental.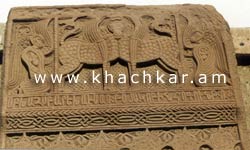 The proportions of stele dictate a new separation feature: the central cross is exchanged with two parallel rows of crosses, which weakens the structural integrity of the composition and enhances the enlargement of decoration.
The composition consists of four rectilinear parts: the cornice, the altar (or altars), rosette, the inscription or the image carving. The details have identical, standard subjects and technical detailing. The evangelical themes are presented: The Nativity, Madonna and Child, The Last Judgment, The Deisus. In some compositions the deceased are depicted: on a horseback and with crosses in their hands, and more rarely, around the feast table. An image with the body of a lion with a human face (a so-called sphinx) is widespread, and the detailed examination shows its relations with the just image of Christ.



Click for Gallery